How to choose a bakery to order the perfect cake for an occasion by CardsPal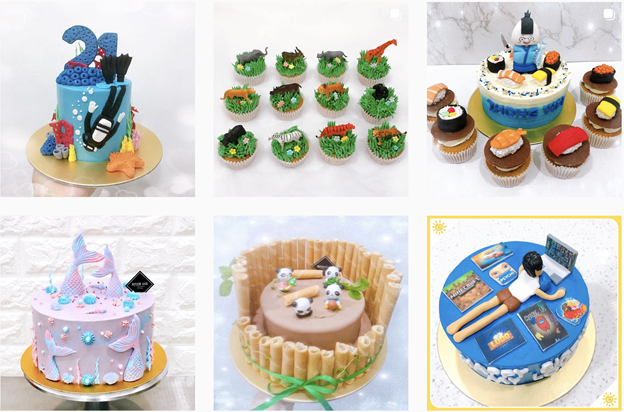 How to choose a bakery to order the perfect cake for an occasion
There's nothing better than celebrating your special occasion with a  beautiful cake that commemorates your special day. Not a fan of run of the mill cakes that look the same year after year? What you need is a specially designed cake that's not only uniquely you, but also perfect for the photobooth and taste buds!
What then, are the things to consider when choosing the perfect bakery?
Choose a bakery with trending and customisable cake designs
Trending and Instagrammable-worthy cake designs can make your celebrations fancier. You're one step closer to your dream celebration with that galaxy or rainbow cake that'll wow everyone.
Consider River Ash Bakery, a customized desserts bakery based in Singapore. River Ash Bakery specialises in the creation of desserts featuring trending designs.
Some of their popular designs include Tsum Tsum, Among Us and Demon Slayer designs. These Instagrammable-worthy cakes will definitely be the centre of attention at your party with everyone trying to snap a shot of the beautiful cake!
Choose a bakery with unique cake flavours and desserts options
Plain vanilla anyone? *Cricket chirping* We thought so. Classic flavours may not be the most exciting options. Go all out on your special day! Consider a cake with unique flavours beyond your usual Strawberry, Chocolate and Vanilla options to excite the crowd. Picture pretty colours on your cake together with delicious flavours of your choice. How yummy!
River Ash Bakery offers unique cake flavours such as Chocolate Fudge, Chocolate Sea Salt Caramel and Cookies 'N' Cream. Moreover, you get to choose the buttercream colour from a selection of pink, sky blue, purple, tiffany, yellow, black or white. With such delicious and colourful flavours, a slice of cake won't be enough for anyone!
Moreover, River Ash Bakery also offers other dessert options such as cupcakes and macarons of different flavours. These desserts would be perfect additions to a cake, creating the most delectable dessert set-up.
For those with dietary restrictions, River Ash Bakery offers less sweet, vegan and gluten-free selections too. Rejoice!
Choose a bakery with fast and efficient delivery options
When ordering a cake, do keep in mind the need to choose a bakery that offers same-day collection and delivery options. This ensures that your cake arrives fresh at the scene. Afterall, it's the star of the show (next to you, of course).
Consider River Ash Bakery, which allows you to receive the cake on the same day as your order if you order before 1.30 pm for both self-collect and pick-up options. River Ash Bakery offers free delivery for orders above S$200 too.
Select a bakery with promos that save you more
What better way to save more than with promos! River Ash Bakery has partnered with CardsPal to help you save on your celebration.
For first-time buyers, enjoy S$5 off your purchase at www.riverashbakery.com with the promo code: welcome$5.
From now till 31 May, enjoy 10% off all cakes, cupcakes and treats with a min order of $50! All you need is a SAFRA card and the code: SAFRAMOTHERDAY.
Find out more about this deal and the T&Cs here.
More deals for your celebration:
Creating a special moment doesn't have to be costly. CardsPal is a robust deals-discovery app that boasts a comprehensive list of deals to earn you savings on food, desserts, flowers and gifts for your celebration!
Looking to buy more items to prepare for your special day? Get the most cashback and reward for your spend. With their unique Cashback Calculator, you'd receive recommendations on the best credit and debit card to use for your shopping. Simply choose a brand on the app, key in your estimated spend, and instantly see the cashback or rewards available!
Check out their app today. 
This article is contributed by CardsPal.